it's monday already? seriously?
the weekend went by way too fast! it was a 'lil hectic, though, for a bit...so, as i enjoy my breakfast of my farmer's market poundcake and a diet coke, let's recap!
friday night, i couldn't sleep worth anything; i ended up going to be about 3 am or so, to be woken up by the loud, crinkling sound: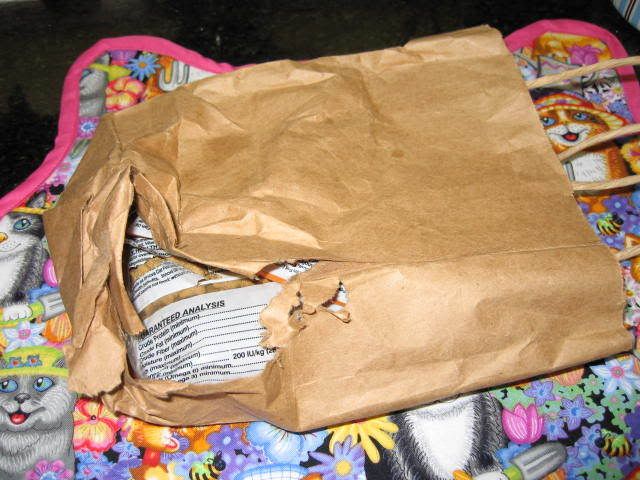 6 am and yup... that's a hole in the bag. my cats (particularly griffin) are very good at finding food to eat. i think he's a little upset that the vet told us last sunday that they had to go on a diet. (i should also be included on that diet.) nonetheless, he found a little shopping bag with some samples of food that my sister had gotten for us at a street fair recently... sneaky, sneaky!
so, at that point, i'm up, and decide that i'll head on over to the farmer's market. just the usual stuff: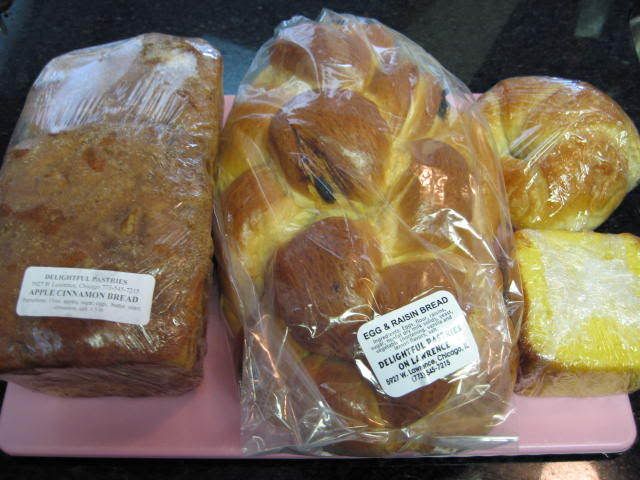 baked goods
honeycrisp apples. yay!
and a treat for myself (as if all the yarn i've bought recently *isn't* enough):
pink flowers
so i actually was *productive* for the rest of the morning; i cleaned up my kitchen (i mean, *really* cleaned...i even polished my stainless steel stuff!), but then right before i was about to jump in the shower, i noticed griffin laying on my bed, acting weird. and then he got up to use the litterbox, and he was straining. i called the vet's office, and they told me they had walk-in appointments from 2:00 to 3:30...so i jumped in and took a quick shower, packed griffin up, and by the time we signed onto the walk-in clipboard, it was 2:13. not too bad, considering that a.) it was raining, and b.) i could hardly find parking. so we sat. and we sat. and eventually, i let griffin out of his kennel because he was crying so much. but he just sat next to me on the bench. and i got a whole lot of knitting done. so much so, that i ran out of yarn. (i didn't think that i was going to have to wait *that* long. but that's okay.)
yes, that's the french girl scarf. again. i'm determined to finish it this time.
anyways, back to griffin. the urinalysis came back showing crystals. uh-oh. i was sent home with special food and antibiotics. my sister called me on sunday morning, and was asking me about the food (because she knows i only feed my cats the really good, human-grade foods from the specialty pet store), and so i was reading her the ingredients off of the back of the can...and then i noticed:
oops. i bought the *dog* kind! and to think that i had just fed them a spoonful the evening before, and they *ate it up*! (go figure!)
so that began my errands for sunday: a.) go to this yarn store in the city that i haven't been to before so i could buy a #10 16" circular needle; b.) go to exchange the *dog* food for *cat* and c.) go to pick up my mom's prescription. easy-schmeasy.
about this yarn store: i went there once, and i will probably *never* go back there *again*. *again!* so yes...they have a pretty large, organized selection of reasonably-priced yarns. they have patterns there that i've not seen before. but their staff? (well, the one little punk-rocky girl that was working there, with presumably, the owner?) forget it. first, we got into it about this yarn that, the gauge given was #3.5 stitches per inch on a #10 needle. right or wrong, she *insisted*...i mean *insisted* that it was a worsted weight. (and i mean, worsted weight. not like heavy worsted. just worsted weight.) to me, that gauge and needle size suggest to me a chunky weight. or maybe even a heavy worsted. but definitely *not* a worsted weight. who knows; i could be wrong. i probably am. but i've never knit up a true worsted weight on a #10 needle. so whatever. and then so i'm finally done looking around, and after she's done ringing me out, she proceeds to tell me just how much she hates using the needles i was buying (bryspun). umm...honey. you try doing a p3tog with a pair of brittany birch. sure, it'll happen, but the points on the bryspun just make it so much easier. whatever!
despite the drama, though, i was able to pick up a skein of unlabeled
farmhouse yarn
on sale and started to knit up my chunky cabled beanie (which i will make longer, into a hat) during the last half of desperate housewives last night:
it's a bit 'masculine', the color, it is - but i really liked how they had that hint of bluey-green in the mix. it's a bit rough to knit with on my #10.5 circ, but i'm sure it'll prove to be a warm-warm-warm hat this winter. (that is, if i *finish* it.)
speaking of somewhat (99%) finished projects, here is my basic cable hat from
stitch 'n bitch nation
:
it's knit out of
lorna's laces
shepherd worsted in the colorway child's play - and it's probably one of the softest and easiest to knit with yarns that i've come across so far. and the hat looks weird because well, it's only 99% finished. i still have to attach the pompom to the top and then weave in my bottom edge. (i don't know why this last 1% is taking me so long!)
anyways...let me go and be a little productive before i head into work...