i'm voting for mario.
what a hottie! whoo-hoo! and boy, can he dance!
so i've been such a slacker lately. i know. i'm blaming mario. actually, no, i'm not. i'm blaming the show - dancing with the stars - for my lack of blogging as of late. i've really never followed the show, until my mom and i were watching it on halloween - and i was hooked. and now, i'm determined to take ballroom dance lessons. in fact, i'm so determined to take ballroom dance lessons that:
a.) i've persuaded to convince my boyfriend to accompany me, solely by my enthusiasm
b.) i've already bought ballroom dance shoes
c.) i've already researched where and when we will be taking lessons. (starting next week!)
how about that?!? but anyways. in all my efforts in getting my ballroom dance lessons underway, i've been a total slacker in the blogger world lately. so...let's get caught up on things!
a few weeks ago, i picked up a *fabulous* - and i mean *fabulous* package at the post office from my knitters tea swap pal! so, i opened up the box, and, i find this cute little pink shopping bag (that will work perfectly for a lunch bag):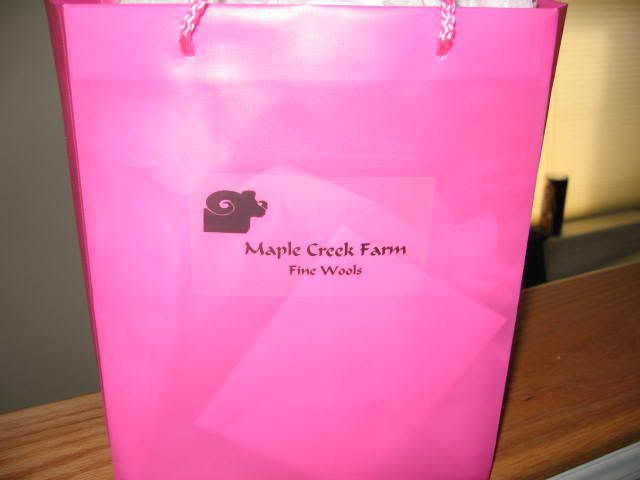 whoo-hoo! we're off to a good start...it's pink! :)
but inside, there was goodie after goodie:
most importantly, the yarn: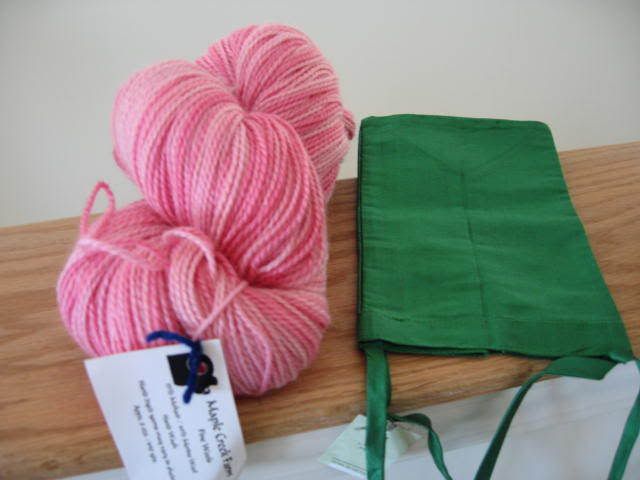 this soft-as-anything, 55% mohair/45% merino hand dyed yarn from maple creek farm, in the colorway 'pretty in pink'. *absolutely gorgeous*. i've got 490 yards of this baby - i've not decided on a project for it as of yet, but, this stuff'll be absolutely *fabulous* once it's knitted up, with the slight variations and all...
so i got the yarn. and what else does she spoil me with? a lantern moon yarn/project tote, no less! (i swear, sarah must've been reading my mind every time i saw the little project bag - i wanted to buy one, but never did, as i always convince myself that i could 'make a better one'. let's forget the fact that my halloween tote turned out inside-out. i *still* could make a better one.)
so that's just the tip of the iceberg.
in addition to the yarn and the lantern moon bag, i got all kinds of treats:
i got chocolates. bochox chocolates. sigh. so much for another birthday! :)
and of course, the requisite tea:
an assam and an irish breakfast. my two absolute faves! (i like this 'send what they like' thing!) and some honey sticks. and a 'tea for two' kit, which included the *cutest* little tea balls, so cute that i had to photograph them: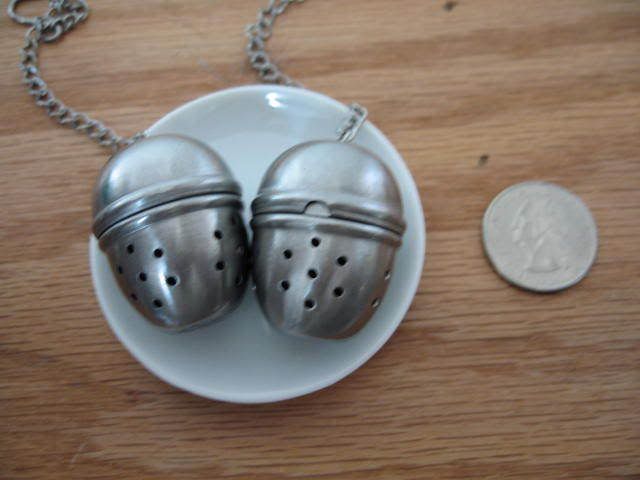 that's them, sitting on the little tea ball holder, next to a quarter, to show you the size! *adorable*!
and i really thought that was it. until i was taking out the last of the tissue out of the bag, and found a silver teapot-shaped teabag holder (which, unfortunately, my camera ran out of batteries before i could photograph it.) again, sarah must've been reading my mind, because i've seriously *wanted* one of these for a *really long time now*. that, or she secretly sees me putting my tea bags on folded-up paper towels, and having a soggy mess to clean up later. (this happens on a near daily basis. and i know i could use a plate or a dish or something other than a paper towel.)
and if you're curious to find out who this awesome chick is who sent me all this stuff, it's
sarah
(as if you didn't know already!) *thank you thank you thank you thank you!*
the funny thing is, is that sarah immediately e-mailed me at the beginning of the knitters tea swap exchange, she had mentioned that she was going to go to the new york sheep & wool festival at the end of the month, and asked if it were okay if she sent my package out late... of course, when i hear the words, 'sheep and wool festival', i get extremely jealous (despite the fact that i didn't even know what it was but it sounded fabulous nonetheless) and was like, "no problem! none at all! actually, i'd really *love* if you get my secret present from there!" and geez. good thing i'm not an impatient person... (at least not *all* the time...) :)
so thank you again, sarah - you are the *greatest*! *greatest!* (*seriously!*)
so, as for everything else exciting in my life, well, it's pretty much the same old, same old. i'm very excited though, because in addition to starting my ballroom dance lessons next week, i'll be taking a ballet class starting in january. how exciting! it's been a good five years since i've actually been in a formal class, so, we'll see how this goes... (flexibility? what's that?!?) but, i'm excited nonetheless. i was even able to pick up my ballet slippers as well when i got my ballroom dance shoes! (talk about killing two birds with one stone!) and sunday, instead of *cleaning* like i said i was going to, what did i find myself doing? knitting? nah... i was sewing my elastics on my ballet slippers! oh my gosh! stop me now! i'm obsessed! (hmm...if only i could take this enthusiasm and apply it to other areas of my life...)
well anyways, i just remembered i have to go in early to work tomorrow, so, that'll be it for this time!
hugs! :)