happy (belated) halloween!
okay...i meant to post these earlier this week, but, i was (and still am) recovering from my self-inflicted sweatshop from last thursday-friday-saturday. just as i was finishing up my bonnet for my halloween costume (two hours before the party! eek!), the doorbell rang, and my mail lady dropped me off a package containing these very colorful and autumn-ish gifts: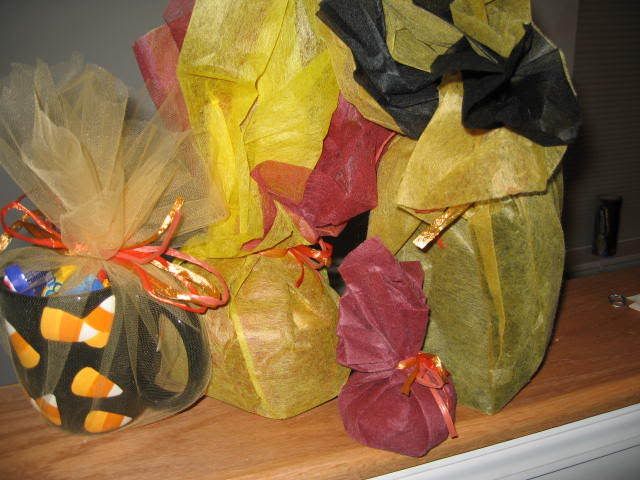 (i actually didn't even unwrwap each piece for a day or two, because i wanted to photograph just how cute and nicely wrapped they were!)
but then, when i unwrapped them...look what they contained!
pumpkin muffin mix, a cute candy corn mug, just filled with assorted candies, a bar of handmade oatmeal soap, and the nicest yarn ever - i don't have the skein close at hand, but, it's this absolutely fabulous pinky/rosey/burgundy-ish yarn that is just *yearning* to be knit into a hat. (cabled, of course.)
so, thank you *sooo much* secret pal...your package was a very welcomed surprise to a very stressful saturday! (did i mention that, i was up sewing until 6:17 am saturday morning, to have to go in to work at 9:00 am?)
anyways. the fruits of my labor (and why i decided that i am going to start my halloween costumes in *june* next year):
they came out surprisingly well, although i look about 50 lbs. heavier because of my elasticized (non-fitted) dress...but that's okay. as i was cutting out my original pattern the weekend before last, i realized that the whole fitted (darts, zippers, gathering) thing was just *not* going to work because a.) i have no idea how to do them (properly, at least), and b.) i had no time at all. but, despite all the problems i had (everything that could have went wrong did) and the realization that i had purchased the *wrong* faux suede-ish fabric for the indian costume, they ended up turning out pretty okay. (fraying fringes and all.) but i learned my lesson, though. next year? i'm *definitely* starting in june.
so a post from me just wouldn't be a post from me if there were no complaining involved, right? today's drama involved a situation at work that i wasn't even involved in, got thrown in the middle of, and subsequently ended up getting blamed for. such my luck. it actually was such an awful, traumatizing event that, after i got home, i immediately logged on to
amazon.com
and purchased the following two books:
1.)
coping with difficult people: the proven-effective battle plan that has helped millions deal with the troublemakers in their lives at home and at work
and
2.)
a survival guide for working with humans: dealing with whiners, back-stabbers, know-it-alls, and other difficult people
*maybe* just *maybe* i can get some insight into this whole thing. and maybe i can learn a thing or two! (or at least manipulate the situation to my advantage!) sigh. the drama. just thinking about it gets me all worked up again! here's to everything settling down and working themselves out!
keep your fingers crossed...until next time...
oh, and p.s.: i've decided that i'm not going to buy unnecessary stuff anymore. my house is *so filled* with stuff that *was not here* when i moved in (a year and a half ago). we'll see how long this lasts...