happy new year!
okay...so i promised that it wouldn't be another year until i posted...and lookee who's here! :)
so...we're only 2 days and an hour into the new year, and i'm already knees-deep into new crafty projects. well, only two projects. but two projects that need to be completed within the next two weeks. yikes!
first up: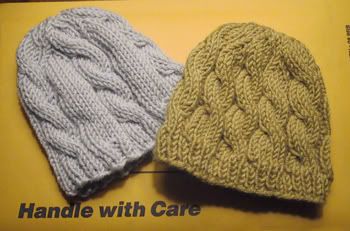 super-dee-dupter cute cabled baby hat. i'm doing the one on the right, but in a fuschia alpaca yarn. i'm making it for a baby shower that i'm attending on the 13th, to match this super cute striped outfit that i found at old navy. it's a fuschia-orange-white striped footed onesie-type thing with a crocheted heart on the chest. *the cutest thing ever*. and the best part is? it's a super-dee-dupter cheap gift. $5.99 for the onesie. $7.00 for the yarn. $2.00 for four pairs of care bear booties. (what a deal!)
the second project is a 'crazy eights' baby quilt, made out of a girly combination of heather bailey, amy butler and joel dewberry prints. it's going to be *fabulous*. i just cut out my squares this morning, and started the 1st set this evening. when i was pressing them, i found that i had sewn 5 out of the 8 blocks backwards. it's the 3rd time i'm doing this particular quilt, and i have to say that i've never made that mistake previously - even the first time i made it. i was going to rip them back, but figured that i'd just leave them. it's a pretty scrappy quilt anyways, and you'd have to be super anal-retentive to actually search for these 5 blocks that are going to be placed any which way anyways and notice that, 'hey...they're not the same as the other "A" blocks.' whatever. my kinda perfectionism makes me want to rip the blocks back, but, hey. so be it.
so i apologize no photos, but, you'll be glad to know that i overnight shipped a battery charger from amazon.com, so i should have it by friday.
so new year's. we actually went and did something pretty cool; we went to the house of blues and saw collective soul. the event was actually televised on channel 2 (i think?) so, it was kinda cool to be at an event that people were watching from home. i didn't make any new years resolutions, but, i think i'm partially saying that because i've already broken one of them (only kinda, though.).
resolution #1: stop eating out. i'm getting fatter from it!
resolution #2: stop shopping for non-necessary things. my house is so full of unnecessary items, and i've got an entire bedroom that is full of stuff that was thrown in there during my thanskgiving "cleaning".
as for resolution #1, i'm really trying. we did manage to make it out to chinatown on new year's day and had dinner there, but that really didn't count. resolution #1 now changed to specify, "no eating out for lunch or really, by myself."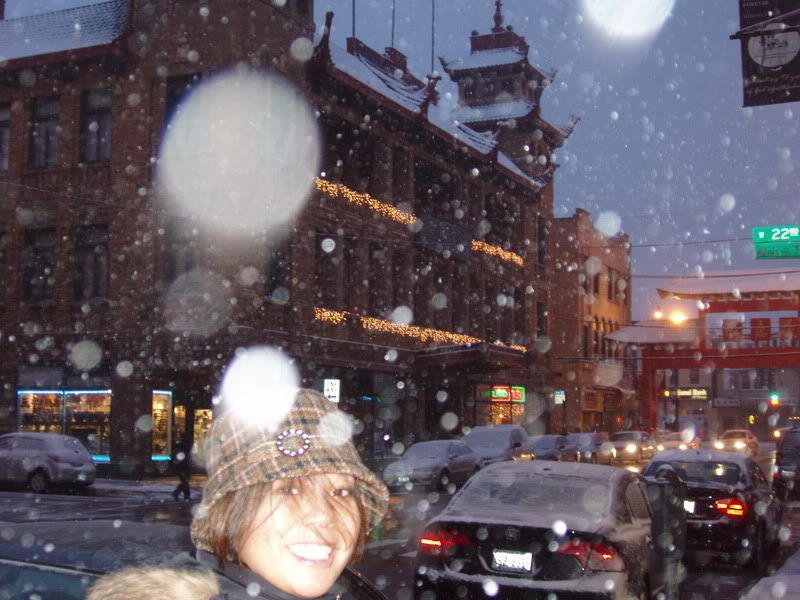 (please pardon the horrible photo. it was cold; i wasn't wearing any makeup, and it was snowing.)
as for my 2nd resolution, well, i'm trying. also. i wanted to make a quilt for our friend's wedding this august or september (no date set yet), so, i log onto
quiltersobsession.com
and discover they're having one of those "the more you buy, the more you save" sale. since 15% just isn't enough for me, i had to go for the big guns and went for the 25% off of $200. (and i really would've gone for the 40% off of $400 but just couldn't find enough stuff to buy.) so, i ended up buying a quilt for them, a quilt for me, and some fabric to make a bag for me. not that i need another bag, and forget the fact that i got a $100 gift certificate to
brownson5th.com
so i could buy myself another vera bradley tote. sigh. it could've been worse, it could've been worse. i keep on telling myself that.
well...it's nearly 2 am, and i have to work early tomorrow, so, i'd better get going here. hopefully i'll be able to make some progress this week and post some photos soon! happy new year!