buttload 'o photos!
so, this week has been a relatively (shopping and such!) productive week, and, the majority of it involves *yarn*, so, i just *had* to show...
earlier this week, i popped into
nina
to check out some yarns for this cabled hat knitting obsession i have lately... (it all started when i saw that pattern on
knittingcentral.com's
website...i just fell in love with their chloe's (mona lisa's) cabled hat! it's just so cool looking because there aren't any "ribs" between the cables... so, in order to *not* spend $90 (to buy the two skeins of yarn) so i could get this hat pattern, i ended up flipping through all of my books, and came across a few (although they have ribs) to knit up, and, well, despite the plethora of yarn that i already have (and have no room to store) here, of course, a new project = new yarn. so anyways. back to my original point. i stopped in to nina, to buy some worsted weight yarn, and, i end up leaving with a few more things in my bag:
not too bad, if i even say so myself. (i'm getting a *little* better at the not buying mass quantities of stuff at yarn stores. okay. maybe *not*.) i ended up with a kate gilbert pattern, to knit up (yet another) hat, my worsted alpaca that was the purpose of my visit in the first place, and, some manos del uruguay yarn, which will end up being another hat. (what else?) i'm really starting to think that nina is probably my favorite yarn shop in the city; it's a pretty trendy, laid back, lounge-y kinda store, where i don't feel under any kind of weirdo pressure (unlike a certain other yarn store which i won't mention the name).
secondly, my purchase from
mountain shadow ranch
. this is an absolutely *gorgeous* handspun yarn, which i just *had* to have...it's called 'primrose'. it's a light blue, with all kinds of little flecks in it - basically, it's just really, really fabulous. the lady who owns the ranch/runs the store/spun up the yarn, teresa, is just absolutely, fabulously helpful as well - she was the one who convinced me *not* to knit up a trinity scarf with this yarn. *now* i understand. i think, though, that it will probably end up being the
kate gilbert hat
- that way, there's enough stockinette to show off the yarn, but it'll keep the yarn looking cutsey, girly and flirty with the pattern. (who would've ever thought!)
yesterday, my sister and i went out to rosemont to go to the
stitches midwest
show. now, i know i'm going to get into a lot of trouble saying this, but, geez, people - be polite! i know that there are some good deals. i know we're all hot to look at the same thing. but geez. when we're all loaded down with these giant bags, full of yarn, and trying to get down these little narrow aisles, browsing the yarn - would it be that much to say, "excuse me..." rather than barreling your way through the herds of people like a bull (literally...figure out what that means), running down the streets of barcelona? or, when i'm looking at some yarn, is it really necessary to *snatch* the bag of yarn out of my hand, because you're just *that greedy*? (geez! i'm getting so flustered about this again! my blood pressure!) anyways. despite the few slight altercations we ran into there, we managed to make it out a.) *alive* and b.) with a few purchases:
these are just mine, but, the funny thing is, is that my sister - who, btw, doesn't know how to knit - ended up buying *way* more than me. and she wants to knit herself a sweater. (mass laughter.) i bought some yarn, and a few patterns and notions, and, the most favorite thing that *i* bought was:
this fleece-lined mitten kit. it comes with worsted weight yarn, and fleece stuff that you apparently knit into the mitten - and, well, it's just going to be *gloriously* warm. (the mitten in the middle of the photo - the furry one - is what the *inside* of these mittens is going to be.) i can't wait.
but, my most favorite thing that *my sister* bought me is:
are these *not* the cutest things you've ever seen? *ever*? size 15 birch needles, with a cat head topper. no, they don't look like either of my cats, but, geez. they are just *the cutest thing ever*.
*ever!*
this morning, i finally ventured down to the farmer's market (for the first time this season! shame on me!) and, bought my usual raisin challah loaf, and, i treated myself to these:
sigh. i'm happy now.
i actually had a *very* productive - well, not really, but for saturday morning - *very* productive morning. since my mom borrowed my car for the weekend, i biked down to the post office, and picked up a *fabulous* little surprise from my sp8,
jody
! she seriously must've been reading my mind.
first, i got an adorable (and *totally* useful) kitten hot-mitten! not only does it have cats on it, it has photos of *my* two cats (well, a black and a calico) on it as well! yay! then, i got some cheese/spread spreaders - i *literally* was just thinking that i need to get some of these earlier this week, so i can eat my cheese (in the little foil triangles) and crackers. what else is in this photo...she even sent me cat treats, as well! (my cats are *very* appreciative of this, because they know that jody had to make a special trip to the cat treat section because she only has dogs!) she also included a bag of cracker jack (with my love of all things popcorn), which, unfortunately,didn't make it to the photo. (it *did* serve as a delightful lunch, though!)
*more* yarn. and worsted weight, too! this is just so *incredibly* soft. i think i'll knit this up into a hat for my dad! he'll *love* it! (btw, the color is *totally* off in this photo...it's more of a brown-y color, like in the corner of the kitten hot-mitten photo!)
the *coolest* notecards, ever. they're vintage "kellogg's" - like the cereal - ones! i especially *love* the sugar bear one though! :)
thank you so much, jody! you're the bestest!
ahh. so much excitement today! but, last but not least, i was able to knit up my swatch for my sweater: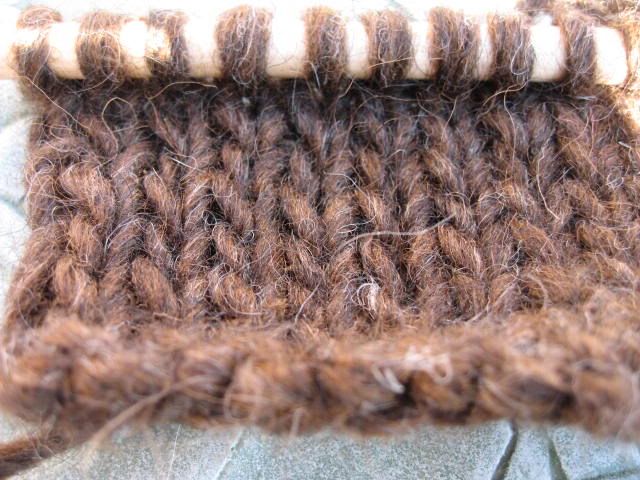 it's in
bulky lopi
yarn, which, as i was knitting it up, the thought that it feels really similar to a
natural coir doormat
crossed my mind. sigh. oh well. i bought the yarn based on the recommendation in the book. they forgot to mention the doormat. it's okay, though. it'll be my first sweater, so, i'm sure it'll have issues of it's own! :)