ok! i've been meaning and meaning to post these photos, but, well, you know how i am... here are my much-awaited photos from my last secret pal box! (and i'm really sorry, secret pal, for not posting them sooner!)
photo #1: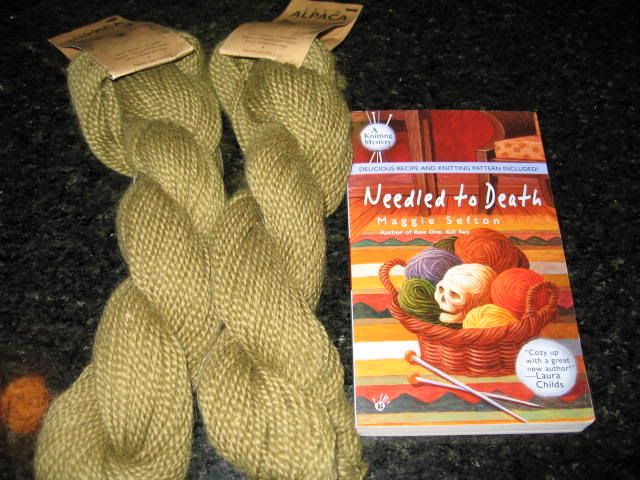 some absolutely gorgeous and *soft* blue sky alpacas yarn - this'll be absolutely perfect to knit up a panta with! and, a novel...with knitting patterns and recipes included as well! talk about all-inclusive! (of course, the first thing i flip to are the recipes...)
photo #2:
antibacterial soap and hand sanitizer from bath and body works, in my most favorite scent *ever*, warm vanilla sugar. (secret pal, you'd better have bought these during the sale! :) )
photo #3: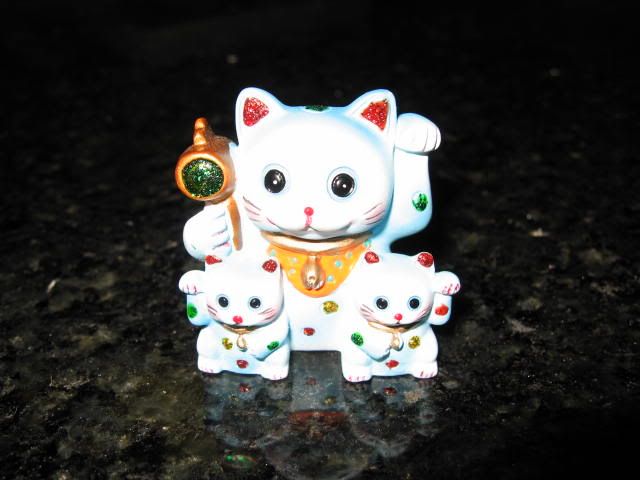 a maneki neko...from chicago! this is one of the most adorable ones that i own yet. i've never seen this size/color/style before! now *i* want to go to the store that's "on the main avenue (i'm assuming michigan) by the river (the chicago river) close to the park with the ampitheater (millenium park - somewhere south of lake)" to go and check it out!
so *thank you so much* again secret pal...you definitely made my day! (and i'm all excited about my presents again! yay!)
but now, for the real reason i haven't done *anything* lately:
ok, so maybe not the only reason, considering that i just picked this up at the ups facility last night, at 9:00 pm... (but it *does* give me another excuse...)
this wasn't a good idea.
i have a tendency to start a *lot* of projects. i also have a tendency to enjoy a *lot* of different types of crafts. these are the two main reasons that i never seem to accomplish anything, even though it seems like i'm always working on one project or another. so what did i do last night? i set my knitting aside (currently, *boatloads* of "c" initial dishcloths), and set up my sewing machine. i was up until nearly 1:00 am playing around with all the different stitches, and figuring the machine out. and then what did i do this morning? same thing. and the worst part? i was even late to work because of it. sigh. i'm obsessed, what can i say?
after work, i found myself going to joann fabrics and then i made another pit stop at hancock fabrics as well. i decided that i would need to find myself a reasonably small project that i could sew up in an evening, to "test out" my new machine. and here is the fruit of my labor: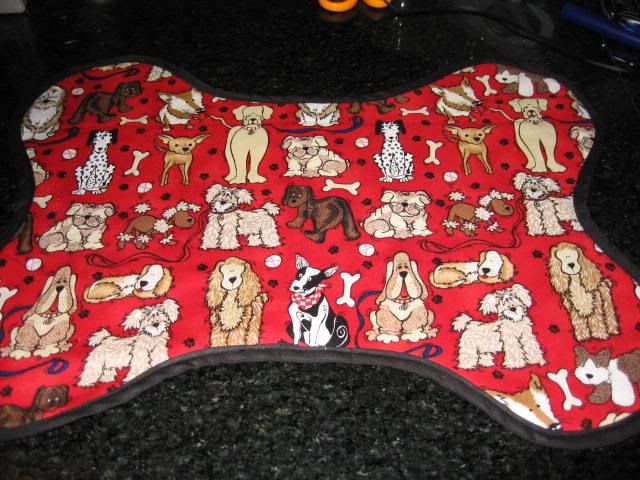 i found this fabric with some chihuahuas printed on it, so, i decided to make my sister a placemat for her dogs! (being the pseudo-perfectionist that i am, i *couldn't* make one for my cats just yet...) it didn't turn out perfect by any means, but, i do have to admit that i'm reasonably impressed that i was able to manage sewing the bias tape along the edges...
let me backtrack a little bit, and add one more photo...
after i got off of work, i ended up going shoppping down on state street, and, ended up taking a taxi back here so i could get to the ups facility to pick up my packages before they closed (at 9:15)... i get there, retrieve my packages, and stop over at target a few blocks away, and then head back home. i trudge up two flights up stairs with this massive, heavy box containing my sewing machine, and this is what i find hanging on my doorknob:
flowers from my boyfriend - in my favorite color, pink! such a nice thing to come home to! :)
more excitement next time. we'll see what other projects i can start (and hopefully finish) this week!